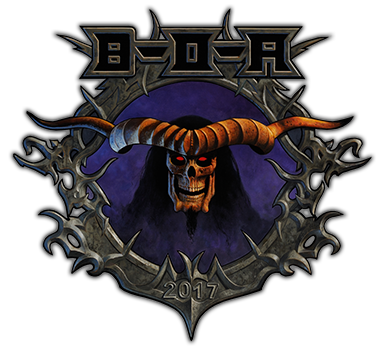 To really get the absolute most from your Bloodstock experience, you need to secure one of the limited VIP passes.  They are available as a combined purchase including your festival entry, but also as an upgrade for those that have already secured their regular weekend tickets.
Bloodstock's first wave of 2018 Serpent's Lair VIP tickets sold out in record time this year.  The second & final wave of VIP ticketing, including a limited amount of VIP upgrades priced at £145 and a limited number of deluxe VIP packages (Octopads, Bellepads and Podpads remain available, but the Luxpads are SOLD OUT) are now available until they sell out… which they DEFINITELY will!
As well as an exclusive and secure dedicated VIP camping area right behind the main stage compound, luxury toilets, complimentary hot showers and the infamous 'Serpent's Lair' VIP bar, featuring 100+ guest ales and ciders to sample, BLOODSTOCK also offers a range of additional entertainment exclusive to the Serpent's Lair VIP experience; bands, DJs and other features!  There will be plenty happening in the Lair FOR YOUR EYES ONLY!!  Whilst the many regulars all know its worth, if you're new to the Serpent's Lair, here's the basics of the VIP camping experience at BLOODSTOCK;

* Private entrance with free parking close to your camping area;
* Party in the VIP bar with some of the artists performing;
* Priority access to the band signing tent (except headline acts);
* Late night entertainment with guest DJs;
* 24 hr hospitality staff to take care of your needs;
* 10% discount voucher on Bloodstock merchandise purchased at the festival;
* FREE T-shirt and goodie bag, including lanyard with all stage times;
* Access to the festival site from 12 Noon Thursday through Monday.

The very popular Deposit Scheme (allowing you to break your ticket payment over five manageable instalments) will be announced on Thursday 21st December.  A very limited amount of 50 VIP tickets will also be available via the deposit scheme, subject to availability.

Also selling out in record time this year was the Early Bird ticket allocation at the discounted price.  Standard weekend tickets are now available, priced at £145 for four days of metal fun, so grab yours now at the ticket store!  A small handful of camper van pitches are still available.

Check out the new festival trailer here and get excited about 2018's best metal weekender.

With Friday night headliners, JUDAS PRIEST, Saturday headliners, GOJIRA and Sunday'sbill toppers, NIGHTWISH already announced, as well as EMPEROR, DEVILDRIVER, WATAIN, SUICIDAL TENDENCIES, WEDNESDAY 13, FOZZY, COMBICHRIST, BLOODBATH, MR BIG, KAMELOT, DORO, ORDEN OGAN, SEPTICFLESH and MEMORIAM so far, 2018 is shaping up to be another stellar year for BLOODSTOCK.

Day tickets will not go on sale until next summer, we will update on this when it happens. 
BLOODSTOCK will take place at Catton Park, Derbyshire on 9th-12th August 2018.
The links on this page are BOA official affiliate links to buy tickets from the official vendors, buying through these links helps support the running of this site.  If you run your own site, you can sign up by clicking here.