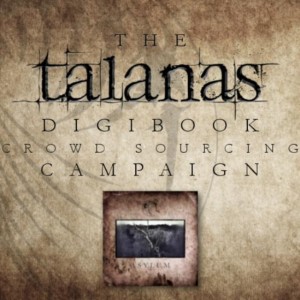 London, UK:
Macabre tea enthusiasts TALANAS return from their nationwide tour with The Monolith Deathcult and answer fan demand for a physical product with a crowd sourcing bid, offering a 20+ page digibook version of their new album, 'asylum'.
Having released their 5 track unplugged / acoustic mini-album through all major digital outlets on February 22nd, the English dark progressive quartet toured the UK with Dutch avant-garde death metallers The Monolith Deathcult, throughout which they offered the 'key to the asylum' package – a download card attached to an antique key offering a unique Bandcamp code containing the album's songs and additional online content.
With the news of the album's availability and downloadable options (following its appearance in editorial coverage, covermount CDs and consistently positive reception from varied press), the TALANAS fanbase have since expressed a succinct interest for a physical version of the release. Frontman Hal Sinden comments:
"It's always nice to know when someone wants a bit of you. We were convinced that the physical market was dead and gone, indeed we'd still say the reign of the standard CD jewel case is long since over, so we need to make sure that if we're going to offer a hard copy of something then it had better be special."
Handling the design duties in-house, the band are now preparing artwork and content for a hardback digibook format. Holding the entire album in CD form, the exclusive collectable is set to feature over 20 colour pages containing lyrics, information on the album's construction & background and selected images from a series of themed photoshoots shot by the band and their label colleagues.
TALANAS have turned to the leading crowd source platform Kickstarter to set up a campaign that will finance the digibook's remaining design costs and duplication. In keeping with the give-and-take nature of pledge funding, the band have offered a series of rewards for those offering their money, including signed posters, names (and even pictures) on the album itself, high tea with the band in the nation's capital, spoken word
recordings, appearances on the next full-length album and even a private show at London's Berry Street Studio.
Click the image above to visit the Kickstarter page.