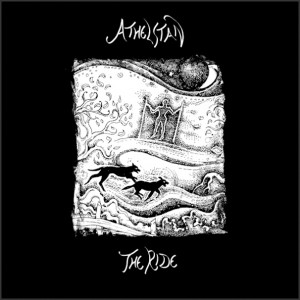 Athelstan is one half of the project called 'Forefather' whom together with his brother 'Wulfstan' has created some of the best historical based metal ever, bar none.  Therefore it was a little bit of a very pleasant surprise to learn that he had a solo album on the cards, and hence forth it came, 'The Ride'. 
Forefather, if you are not familiar, play an English Folk infused Black Metal, which in the last 2 albums has leant further away from their earlier sound to an ever more melodic and ever more 'epic' style of Metal. 'The Ride' is much more in this vein and it has more of the folk elements at the forefront of the sound. Indeed, the track Enchantment (Bewitched) encompasses this perfectly with a lovely melody accompanied by a single drum sound which evokes the Anglo Saxon period which is the theme and inspiration to Athelstan.
Brother Wulfstan adds vocals to two tracks 'Keepers of the Dawn' and 'Hero on the Hill', inspired by the Long Man etched into the  East Sussex Weald, and he puts in a fantastic vocal delivery. Whilst this is not a Forefather album, obviously if you are a lover of them I think that you will love this 7 track outing by one half of the band.
Overall, this album is very uplifting and takes me personally into the so called Dark Ages with every listen, with 5 instrumental tracks which I think this almost gives it a soundtrack feel. If you like folk metal without the cheese, this is for you!
Wassail!