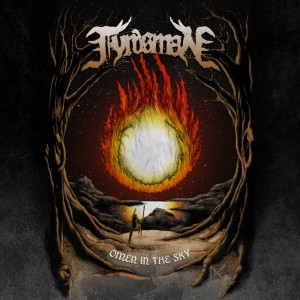 In 2010 a very special EP was released by a gentle man called Tim Shaw under the moniker Fyrdsman (the name given to the local men who fought alongside the trained warriors in Anglo Saxon England during the 'dark' ages). So good was this release (available again here) the pressure to hear more from this melodic black metal musician was tangible. Whilst most of the songs were pretty much written,  a combination of funds or lack of and a re-location has made those smitten by the EP endure a long wait for the album to see the light of day.
If you are unfamiliar with the work of Mr Shaw, then fans of  Emperor, Arcturus, Winterfylleth, Forefather and Solefald will love Fyrdsman! To describe this as a black metal album is to do it a dis-service in my opinion, as it encompasses much more than that in the way that the likes of Solefald and Forefather bring more to the table than basic BM. English  History,  the old ways and beliefs are the narrative of the album with the sound given to us beautifully by Sam Wale who mixed and mastered the release.
'Menace on the Bridge' the albums opening track, is the story of the Norseman who fought and held the English warriors led by Harold Godwinson in 1066 at the Battle of Stamford Bridge, and the young man who was sent under the bridge to slay him after he proved a stubborn obstacle to the warriors trying the remove him. With an Emperor influenced start  to the track with tremolo picks and atmospheric keyboards it progresses to sound more like Solefald and we hear Shaw's clean vocal style as well as the rasping delivery akin to Ihsahn.
'Omen in the Sky' refers to the prophecy of Halley's Comet passing over England before the fateful Battle of Hastings by Eilmer of Malmesbury, with a great riff taking the track on a journey into blast beats.
'Woven by Fate' brings a slightly prog element to proceedings with some snazzy keyboard work the like of which you may hear on an Amorphis track, in one of the albums stand out tracks before 'Wainwright' takes us up the mountains and fells of the Lake District. The album takes a melodic jaunt with 'Heretics' and the slower 'Wayland' brings a more epic feel to the fore. 'Maiden in the Moor' is a mid-paced folk ditty dating back to the middle ages showcasing Shaw's vocal flexibility with clean vocals, before closer 'Perennial.