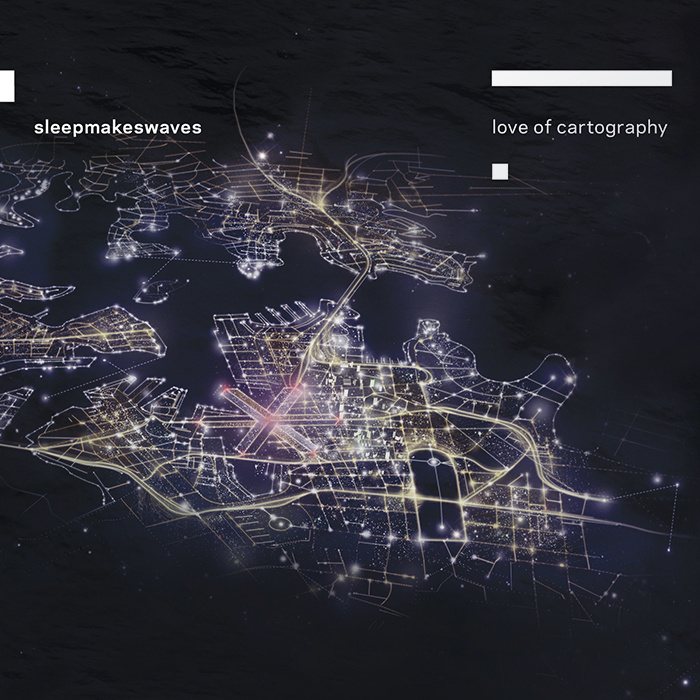 sleepmakeswaves are a post-rock band from the land down under who 'write love songs about delay pedals' and have been doing the rounds since 2006 but it was debut album "…And So We Destroyed Everything" in 2011 that gained them attention and quite rightly too with a gorgeous and atmospheric take on the instrumental post-rock genre.
Second album 'Love Of Cartography' expands and builds on this platform and then some to stunning affect by going for an impressively BIGGER sound with a bucket full of subtle additional influences the stand them out form the burgeoning crowd.
Fans of God Is An Astronaut and Axes should definitely take note (if you have not heard of then get on it) "Perfect Detonator" suitably kicks off with a bang as a squall of white noise is interrupted by drum n bass electro underpinning the first of many epic guitar crescendos that settles down for a cheerful light verse section, which itself evolves into a climatic soundscape of stunning melodies and shifting dynamics, the latter is amplified by the afore-mentioned bursts of D'n'B drumming.
After this barn storming introduction "Traced In Constellations" keeps the momentum rolling by effectively being one long epic crescendo, while the melancholic interlude "Singularity" and the slow burning "Emergent" calms everything down until the pulsing bass line kicks the intensity back up several notches resulting in some magnificent RIFF work heightened by the subtle electro
appearances.
"Great Northern" treads a different path with the appearance of a piano line and more pronounced electronics adding a different character to the more mid paced guitar work that follows that brings to mind the more film score nature of Faunts (Those of Mass Effect 1 credits fame).
"The Stars Are Stigmata" kicks back into the big bombastic territory with a killer RIFF and energetic bouncy rhythm and after another low key interlude in "A Little Spark" the remaining three tracks blaze away into post-rock glory via a cavalcade of RIFFS, crescendos and superlatives.
A stunning work of art full of character and energy and, for me, a definite contender for Album Of The Year.