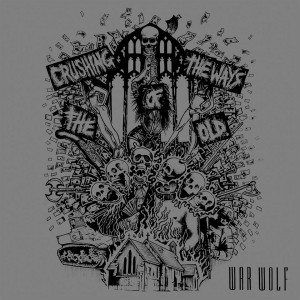 As you may have gathered I love going to gigs, one of those many reasons is the ability to discover new and exciting bands I normally wouldn't give the time of day to.  In this instance an Iron Witch show switched me on the aggressive Crust Punk of Brighton's War Wolf.
Despite only forming in September 2012, they have been busy bees having already released a Split EP with Sob Story and their own "Riding With Demons EP", and now in our hands we have début album "Crushing The Ways Of The Old".
And a very apt title it is too as the initial sample and aggressive raw Sludge of "Christianity (Is Dying)" demonstrate they definitely don't sit on the fence when it comes to viewpoints!
The first 25 minutes fly by in 11 tracks of pure rage mixing film samples, Sludge riffs and Crust Punk, while final track 12 shows elements of progression (I kid) by stretching to a full 5 minutes of feedback infused Filth (the good kind).
Plus it is free on Bandcamp (name your own price), so get on it!