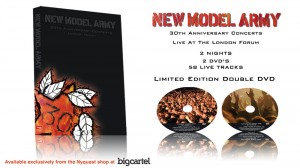 This is pure self-indulgence for me. A chance to relive the Anniversary shows in London from December 2010.
New Model Army formed in 1980, influenced by the musical end of punk, with rock and folk music. Over the years they have created many albums, controversy and one of the most loyal followings of fans. Their live shows are passionate, touching and memorable.
The band played two consecutive sell out nights at London's HMV Forum, where the band showcased 58 tracks from the full range of the back catalogue.  Both nights were captured in High Definition by ten main cameras, with the band themselves mixing the sound.
Metal fans may be familiar with some of their work as covered by others, Sepultura covered The Hunt on Chaos AD, Skyclad covered Master Race and Anacrusis thrashed up I Love The World. The best live band I have ever seen.
This is a limited release of 1,500 copies and only available from this location.