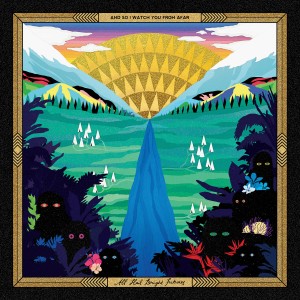 When is a Post Rock album not really a Post Rock album?
Welcome to the world of Northern Irish group And So I Watch You From Afar who take the template of Instrumental Post Rock and infuse it with a large dose of summertime Pop and Progressive musicianship.
In a nutshell… imagine the Beach Boys if they decided to form a post rock band.
Personal favourite track "Like a Mouse" encapsulates this format with its cheerful pop chorus hooks synced with aggressive riffmanship, which leads into "Ambulance" in which the pop sensibilities are so subtlety simple that it takes a few moments to realise the anthemic vocal hooks you are dancing along to are in fact the band spelling out of the letters of the word ambulance!
So many different elements such as Disco, Electronic and even Calypso weave in themselves in and out of every track that it shouldn't work, but it transcends all this to be ridiculously FUN and INFECTIOUS record.