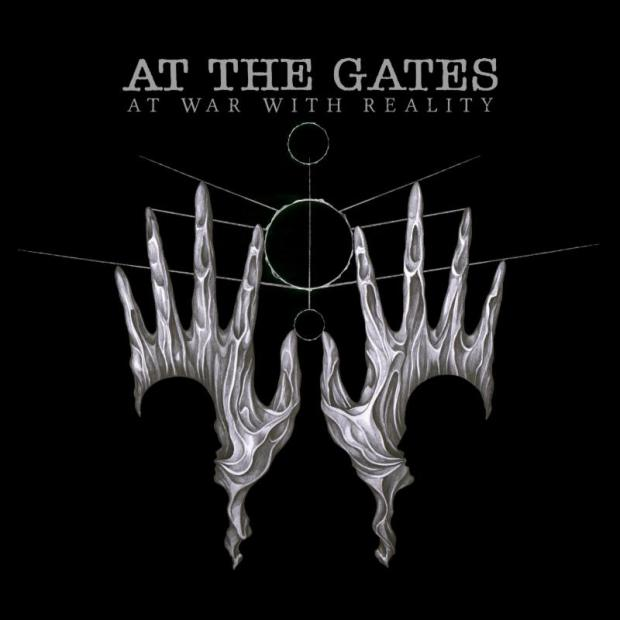 There are probably quite high expectations for At The Gates to live up to with this, their first album since 1995's landmark melodic death metal opus, Slaughter Of The Soul. I'm certainly feeling a certain sense of trepidation hitting the play button, but my hopes are high after hearing the preview title track.
The intro is an interesting choice on its own: a very occult sounding spoken word atmospheric in Spanish. I've been told it is an excerpt from Sabato's novel 'On Heroes & Tombs' (recited by Anton Reisenegger – Criminal, Pentagram (Chile), Lock-Up), but I'm not familiar enough with the language to gather what is actually being said. However, this just adds to the eeriness, and it's a nice touch for a Swedish band to use this tongue to re-introduce themselves after such a long hiatus, and in a scene historically dominated by English. It could very well become yet another iconic opening.
Stepping into the music proper, one thing is obvious. If you wanted a new At The Gates album, you got one. While leaning more in favour of their more melodic edge than the spit and gristle of their early career, there is no mistaking that signature sound that grabbed metal fanatics worldwide when they first emerged.
That's not to say that this is a softening of the edges, but rather that it has lot in common with the maturity of song writing displayed on Terminal Spirit Disease and Slaughter Of The Soul. Which is simply perfection in my opinion.
Every track here is memorable in its own right. So much character has gone into the creation of this work, that it's hard to imagine this is a band who stepped back for so long. Many seem to struggle with later releases, as if the fire has been damped, but on At War With Reality, ATG only return with full-fledged fury and still sharp teeth.
Going from strength to strength throughout, AWWR is fantastically written, well planned, and reeks of a conscious effort to avoid putting out something stale or lacking in passion. Purists may not greet this platter with open arms, but those who followed ATG through their original career should be more than pleased with the end result.