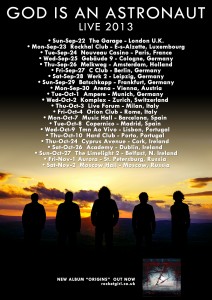 With the release of their rather splendid new album "Origins", Post Rock greats God Is An Astronaut pay a welcome return to Olde London Town.
Support Act Eat Lights; Become Lights set the crowd up perfectly with their Psychedelic Electro meets Kylesa, utilising funky bass, grinding guitars, two drummers, and trippy projections to build a pounding rhythm, great live but unfortunately this doesn't translate to record at all.
God Is An Astronaut however translate perfectly both ways, and seemingly change their live sound with each tour – 2011 Damnation Festival show focused on the rockier aspect, while the 2012 tour with Maybeshewill focused on atmospherics – In this instance touring with the addition of an extra live guitarist (so three plus bassist) they have morphed into a heavier proposition, which in the closet like non air-conditioned sweat box of the Relentless Garage is really striking.
Saying that they start politely enough with "Weightless" and "Transmissions" from the new album before hitting their stride with fan favourite "All is Violent, All is Bright" in which the normally subtle ending crescendo takes on a whole new life with the aforementioned extra guitarist which becomes a theme throughout the set, mixing the set list 50/50 interweaving standard fan favourites such as "Fireflies And Empty Skies", "Echoes" & "Suicide By Star" with new album tracks, all the while willing to throw curve balls such as completely wrong footing the crowd with an extended Drum n Bass intro to "Signal Rays".
After what seemed no time at all they were saying their goodbyes and finishing off with an absolutely monstrous versions of "Red Moon Lagoon" and "Route 666".