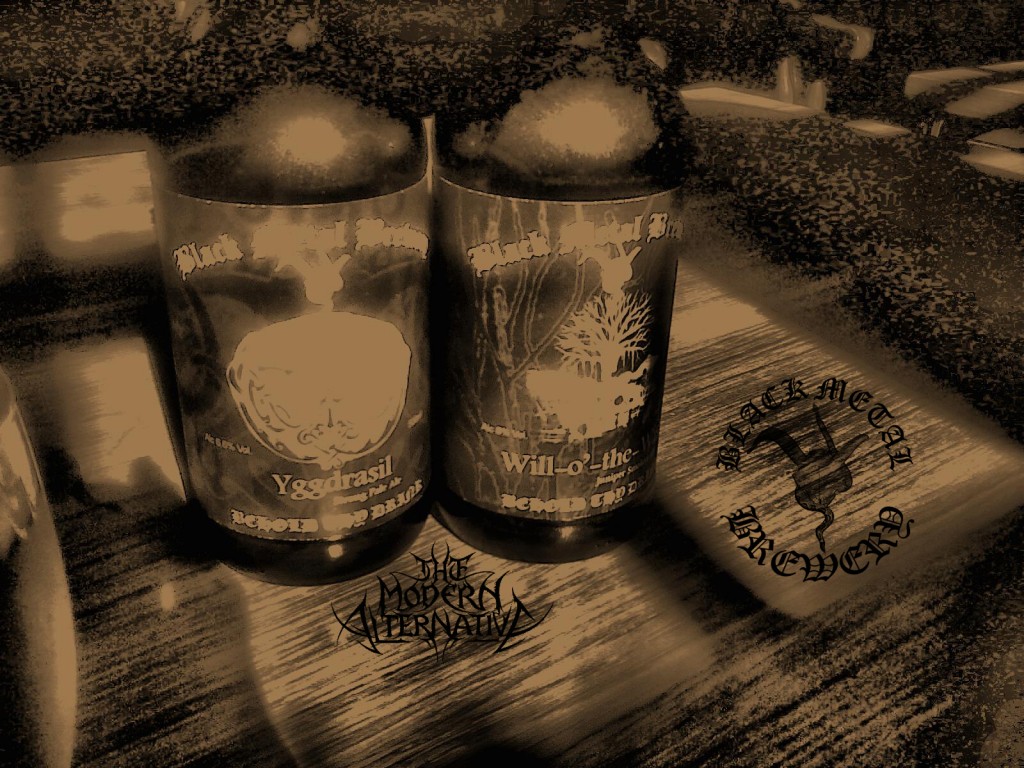 I came across the Black Metal Brewery a few months ago via Facebook and thoroughly approved of the operation in principle.
The following article recently appeared on the Black Metal Brewey's Facebook page, including the announcement that one could now obtain these beers in the pub Cloisters in Edinburgh.
I immediately made it my mission that weekend to pop along to Cloisters in the afternoon to try them, I figured that being only two beers, getting through the whole range in one sitting shouldn't be too hard!
A better industry description than I could manage of the two beers, "Yggdrasil" and "Will O' The Wisp", is given in the aforementione article.  I must confess I did unfortunately have to rush my drinking of them due to other commitments on the day in question (namely rounding up band members and getting along to the venue we were playing that night), but I will definitely be picking up some more and taking my time over them, probably sticking a suitable DVD on (my girlfirend's live Windir one springs immediately to mind) to provide some suitable aural and visual backdrop for such libatious activities.
For me, both of Black Metal Brewery's beers fall in the craft beer region of the lager-to-real-ale scale and they are both truly excellent.  Whilst being very different beers, neither are overbearing with any of their flavours which I find is a common problem with craft beers (cough, BrewDog, cough). Both of these beers are exceedingly drinkable which, given their strength (6+ %) should be borne in mind during afternoons and on empty stomachs – I was definitely feeling the two I had almost immediately after finishing them.
One point I did note was that despite not being described as being bottle-conditioned the Yggdrasil did contain a slight amount of sediment but accidentally pouring this into one's glass (as I did as I was finishing mine off) is not a disaster.
Overall, these are two very different yet top quality beers and they are well worth keep an eye out for.  They are not 'novelty' Metal-themed beers merely sporting skulls on the (obligatory black) label; but are carefully constructed products created by those with a great passion for the concept as a whole; both the music and the beer.  Go and find them and go and drink them.
Black Metal Brewery have a website under construction, which contains contact details, also check out their Facebook page.
Overall score:     Lots / 666.
Addendum:
As it turned out, the gig we played that night was attended by the Black Metal Brewer himself, Jaan Ratsep.  It was great to meet him and to be able to tell him how much I enjoyed the beers in person.  He seemed very pleased and let slip that a third beer is in the works, I forget the description he gave but I will certainly be keeping my eyes open for it becoming available.
(Many thanks to Richard "Cod" Codling of Live Burial for the review and photograph)