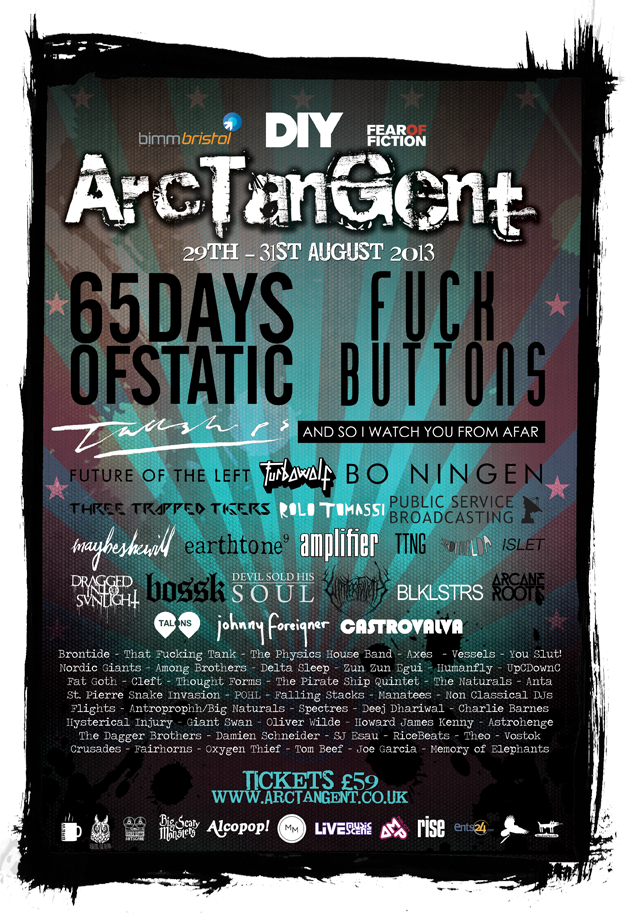 "From the makers of 2000trees, ArcTanGent is a new 3,000 capacity festival featuring bands & DJs of a more Experimental / Post-Rock / Progressive / Leftfield variety… think bands like Mogwai, Explosions In The Sky, Battles, The Mars Volta, 65daysofstatic, Fuck Buttons, And So I Watch You From Afar, Three Trapped Tigers and Fantomas"
Well with a mission statement like that how can I not have been excited! Happily (with the help of Damnation Festival) they well and truly delivered.
Set in a smallish field with no distinction between Campsite and Arena – you can camp up to 30 meters of any stages – amusingly most festival goers in the face of free choice defaulted to camping in one large group away from the four stages – all stages are no more than 30 seconds walk from each other… oh and you can bring you own alcohol still!
So after pitching up next to Stage 3 and getting into the festival vibe, Thursday evening was properly kick-started with the violin led Post Metal assault of Talons who, despite looking like a lost group of students, certainly know how to play a heavy riff and the addition of the Classical violin melodies add an intense movie score atmosphere to proceedings.
Pre-festival buzz was focused on genre favourites Maybeshewill, who were booked to play two sets.  The first of which was a purely fan voted set, so suffice to say they went down an absolute storm as they rolled from one top quality emotional charged Instrumental track to another until finishing in an almighty crescendo with "Not For Want Of Trying".
Another plus for the Festival was the food and drink catering, rather than major brands it was all locally sourced vendors, including the beer and all reasonably priced (£7 for a 10inch pizza / £3.50 for a pint), special mention to Hall's Dorset Smokery for the epic bacon rolls.
As mentioned before I pitched next to stage 3 which resulted in my morning breakfast (read: beer) being accompanied by the Progressive Space Rock of Polymath performing all of 30 meters away from my tent – winner.
Unsurprisingly the bulk of Fridays highlights were from the Damnation Festival curated second stage.  Devil Sold His Soul showcased their new vocalist with their emotionally charged Post Hardcore, sounding tight as ever.  Winterfylleth blitzed through their Black Metal assault, Bossk dazzled everyone with sublime musicianship, while Dragged Into Sunlight dazzled everyone with aggressive intensity, leaving it to Earthtone9 to fittingly wind up proceedings playing their "ArcTanGent" album in typically brilliant fashion.
After the bands finished at 11pm, the main stage held one epic Silent Disco with various bands from the line-up having a 3 way DJ-off with 3000 people going nuts.  It was certainly a sight to behold and experience to be involved in.
Saturday was a less hectic day of exploring new adventures, Axes stoke the first fire with an energetic performance of finely tuned stop-start Instrumental riffage.  Exploring further afield I was impressed by one man Post Rock band Theo, alternating between playing guitar and drums without pause (hesitation or repetition, etc.), with the help of various delay/loop pedals.  Back over on the impressively constructed main stage, The Pirate Ship Quintet incorporated cellos and Black Metal vocals into the Post Rock template while Fat Goth satisfied the craving for something simpler with short bursts of Punk Rock racket.
Nordic Giants mesmerised all in attendance with beautiful stark performance leading to one punter dropping his pint and exclaiming "this festival gets better by the minute!".  Amen, Squire.
With a buzzing atmosphere present all around it was tailor made for a band to step up to the plate and preform that set which goes down in Festival Folklore… Step forward, And So I Watch You From Afar, who took to the stage as if they were headlining and performed their Progressive Post Rock with conviction and created an absolute storm, which left it to Turbowolf's brand of high energy Retro Rock n Roll to be the perfect way to mosh out the remnants of the Festival.
Would it surprise you to say I've already bought my ticket for 2014?!