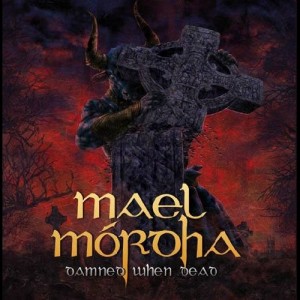 I was delighted to hear that Mael Mórdha had signed to Candlelight Records and joined a fantastic roster of bands currently with the UK's best metal label, joining Winterfylleth, Wodensthrone, Falloch and Cnoc An Tursa. Imagine this mob in a shield wall! 
Bands who tell the history and mythology of their nation through their music is always of interest to this scribe, and actually educational to this modern comprehensive non graduate! "Damned When Dead" follows where the enjoyable "Manannán" album left off and has my foot tapping form the very beginning, with the usual melodies.
Formed in Dublin in 1998 by Roibéard Ó Bogail, whose unusual 'Sean-nós' inspired traditional Irish vocal style gives the band its distinctive sound, Mael Mórdha takes its name from a former King of Leinster, who met a bloody end in battle in the year 1014 A.D.  Irish Folk melodies fused with Epic Doom is the best way I can describe the sound for those unfamilar, imagine a Doomier Primordial and you have more of less got it, no disrespect to either band just a fair comparison I think.
The album is conceptually about the Norman imposed Papal Bull (document) , authorised by Adrian IV, the only English Pope ever, giving fellow Norman King Henry II and centuries of his successors the 'right' to rule Eire in an attempt to bring the Irish Church into line with the Vatican. The songs tell of the battles which ensued, "King Of The English" and "All Eire Will Quake" are pure classic heavy metal and will have your head banging.
Roibeards unique vocals soar, and  I strongly advise fans of Bathory, Primordial and Candlemass to buy this.  Anyone into the so called 'Pagan' Metal scene probably know of these guys already and are of the converted, but if not please also check out the debut "Cluain Tarbh", "Gealtacht Mael Mórdha" and "Manannán", for this is a band who have been underrated for too long, and hopefully this release with a great label like Candlelight behind them will give them the leg up they fully deserve.  Blinding.