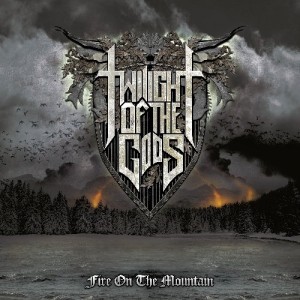 "This is our heathen metal call to arms, raise your voices and write your destiny in blood!" – If that line from the first track on Twilight Of The Gods' album 'Destiny Forged in Blood' doesn't make you want to buy or pay for a download of this album then I give up!
The guys in this band have brought a proper Heavy Metal album to the table, if it doesn't have you pumping your fist in the air after 30 seconds, means you are most certainly either deaf or you need to just shuffle off to watch the next celebrity non-talent show on the box.
Mr. Averill is bristling on this as usual with some great lyrics, particularly on the title track, delivered with conviction and he hits some great really quite high notes not heard by myself before! The self-analysis on 'Preacher Man' brings a smile too.
Nick Barker's drums are simply pummelling as you would expect and the guitar riffs from Messrs' Lindgren and Eriksson are delivered in an aggressive and traditional style.  I can hear Thin Lizzy, Bathory (of course), early Maiden and Priest in this foot stomping total head banging album which any Metal fan needs for the collection.
So there you have it, I am not going to waffle on… all you need to know is that this is a true Heavy Metal album from some true stalwarts of Heavy Metal. What's not to like, brilliant.