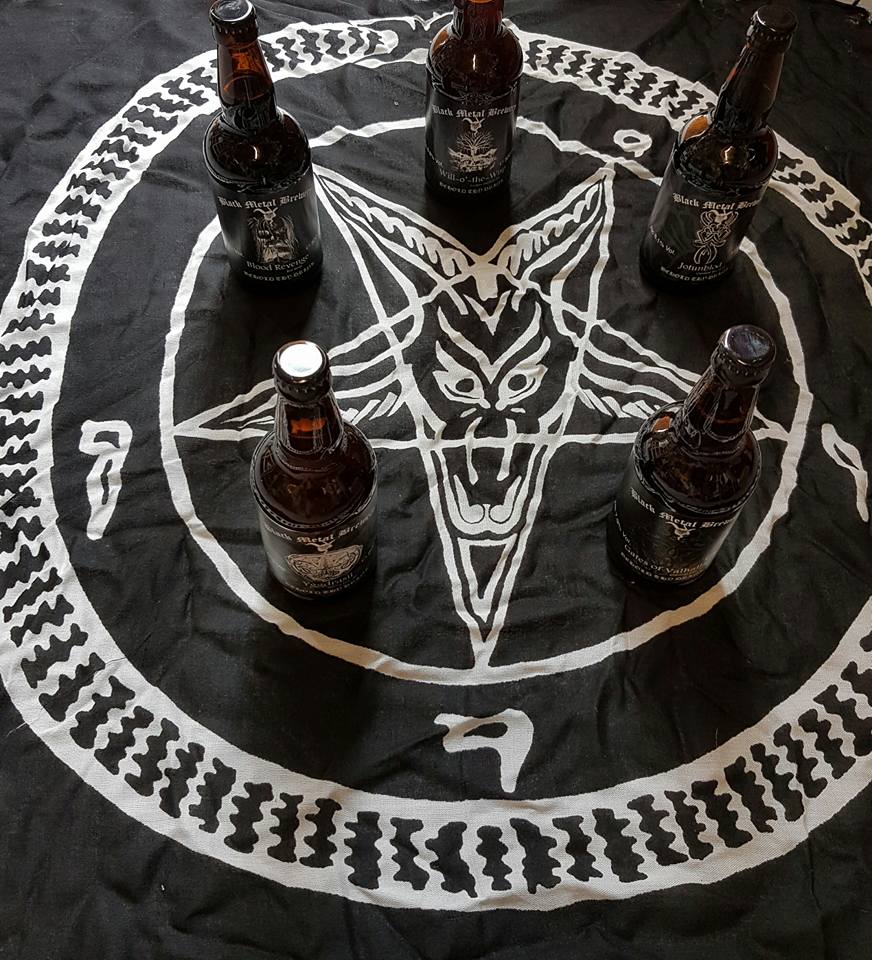 "Hi Mark, do you mind if I drop some beer round for you to drink and write about?" said Alex.  "Seriously? Are you winding me up? Of course bud'  I replied…. And soon enough the boss was at my door with a selection of fine ales from the Loanhead based… It's in Scotland, look it up… Black Metal Brewery, which was spooky as we'd both been to see northern monkey black metallers, Winterfylleth, the night before.
Now Alex has asked me to write about these lovely bottles of brown wonderment because he knows I'm a member of CAMRA and suspects I might know a thing or two about beer.  I'm not a total beer scoring uber nerd but I do drink a lot of real ale. It's nice. It's proper. Making it is an art form. Now my wife – Brutal Ruth – says I'm what's known as a 'functioning alcoholic' (she can talk, flat out on the sofa watching 'Britain's Got Talent' with an empty bottle of rose next to her..) but I prefer the term 'drinking enthusiast'.
Real ale / cask ale /  proper beer / craft ale (hate that term… it's like putting the word 'post' in front of a musical genre… fuck off you pretentious bandwagon jumping hipster bellend!) is immensely popular in the UK these days, in the main due to the efforts of CAMRA. It seems you can't move these days for beer festivals and small bottles of overpriced 'American triple clunge hopped, artisan water based ARRRGGGHHHHH  craft ale'.  Most pubs, even in city centres serve at least one or two real ales and, as much as we think of them as a crèche for red-nosed, despair-ridden lonely gentlemen… especially at 9am… Wetherspoons has also played a large part in bringing proper beer to the masses.  I myself, have often found myself in a Wetherspoons, before noon, enjoying a cheap & cheeky pint of something … wondering what the fuck I've done with my life over the past 44 years.
So successful has CAMRA been that their now thinking of changing their focus from standing up for real ale & real cider drinkers (not the ruddy-faced blokes often found on park benches shouting at pigeons and starting a fight with themselves, that's a different cider… probably Frosty Jack or my personal fave, Old Rosie) to actually representing all pub goers.  Now I'm not sure I want to be likened to some bloke in a Millwall shirt who likes to down pints of Stella and engage in fisticuffs outside Yates but that's for another article.
Anyway, back in the room.  I'd heard of 'Black Metal Brewery' but as I'm an Essex based chap I'd not managed to get my (trembling) mitts on any, so Alex – thanks mate.
Now this will not be an article full of technical 'beer ponce' jargon… I don't know any and to be honest, I've had Alex over.  Rather I will describe the beers, comment on their taste & strength and, in doing so, attach to them their own equivalent black metal band. You with me? Oh and a word of warning… don't drink all of these in the same session….  just…. don't.
Ok.

Jotunblod
Jotunblod is an oatmeal rye stout.  'Stout' is an understatement.  This is very robust and at 8.1% definitely not a session beer.  Nor is it designed to be.  There's a lot going on plenty to savour with this brew.  Blacker than black, this packs a wallop that commands respect. Complex yet smooth it is one of the best stouts I've ever had.  Strength means nothing without taste and the creamy smooth initial sweet flavour of Jotunblod has a hint of chocolate and a nice bitter aftertaste.  It took me a while to get through the 500ml, not because I didn't like it but because it was an all-out assault on the senses.
 – If this was a black metal band, it'd be Mayhem.
Gates Of Valhalla
Not where I found myself after finishing the bottle of 'Jotunblod' but BMBs 7.9% oatmeal pale ale.  Unlike a lot of pale ales this has plenty to it and punches well above its weight.  A beautiful coppery colour with a light yellow head, it tasted fantastic.  Hints of smooth caramel – the oatmeal really makes the beer silky – with a bitter aftertaste with hints of fruit.  Couldn't put my finger on which.  Maybe a bit of orange.  Bloody lovely all the same but again, treat with respect.  This beer, despite being super smooth is deceptively hefty and capable of putting you in a state of unconsciousness after which you will wake up with sore parts.
 – If this was a black metal band, it'd be Gorgoroth.
Blood Revenge
Billed as a rye stout and with an ABV of 6.6% this is like a big chocolate cake in a glass.  It has a very fruity and dry finish.  While not as bludgeoning as 'Jotunblod' this is still a very crafty brew.  I thought it was lovely after the first taste and by the end of the bottle I'd had quite enough thank you.
 – If this was a black metal band, it'd be Cradle Of Filth.
Will-o'-the-Wisp
Now this I was pleasantly surprised by.  Labelled as a juniper smoked ale, I was a bit apprehensive.  I'm not a fan of smoked beers as they can often be overpowering and taste like your trying to drink a bacon sandwich blended with the bits left over at the bottom of your barbecue… to me anyway. (Anarchy Brewing Co.'s 'Smoke Bomb' was a great example.)  However 'Wil-o'the-Wisp' was a bit of a treat.  A pleasant and sweet hickory smoke taste with the juniper coming through in the after taste. 6.6% ABV… Coz it's metal innit.  Not for everyone but once you get into it, very moreish.
 – If this was a black metal band, it'd be Dimmu Borgir.
Yggdrasil
Finishing off with my favourite.  This is a strong (6.6%) pale ale.  Very clear and golden. Smells floral and has a very pleasant citrus / melony  taste.  Delicious chilled with a bit of a syrupy aftertaste.  I wanted another as soon as I finished.  This is a real treat and the one I would recommend to non-ale drinkers to introduce them to the range.  Despite being very drinkable, this has a quiet complexity to it.  Worth buying a few bottles to get the most out of it.
 – If this was a black metal band, it'd be Emperor.
So there we are.  Five of Black Metal Brewery's tasted.  The brewery has a really cool gimmick, the labels look like unused cover art from Unleashed albums and with the right distribution should hopefully find its way into the shopping trolleys of not only metal-heads (let's face it, we'd drink Toilet Duck if it had a cool label) but also ale connoisseurs all over the UK.
The only thing I'd change would be the 'goat skull / snake' emblem which, to me, looks like a top down view of a cat licking its arse…
It is currently stocked in these outlets.