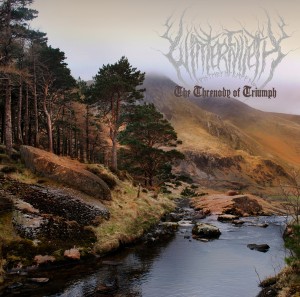 Friends, Romans and Englishmen, here we have the third album by the mighty Winterfylleth, a band unashamedly close to my heart. OK confession time as for myself, 'The Mercian Sphere' resonated deeply within me, and not wanting to sound like a sycophantic prick, was and STILL is a spiritual experience with each listen. Some music can at times have me in tears, and that release did, and for all the right reasons!
Much trepidation then ensued when lads embarked on the follow up, and to be honest, I didn't think they would quite reach those peaks once more, such was my adoration for that particular album.  On my first listen to 'TToT', I felt a little flat to be honest, as 'A Thousand Winters' blasts I wanted more rage, and an outright battle cry, were my fears to become reality? I didn't think it is a strong opener, but then enter 'The Swart Raven' and my spirits lifted,  and then a beautiful acoustic classical interlude before the stirring 'A Memorial' and I was starting to feel  warm!  On discovering that the first 3 songs (Aefterield Freon excluded) were a trilogy akin to' The Wayfarer.1, 2 & 3' things started to make sense.  My heart raced faster as The Glorious Plain gave me an anthem, 'the plain endures forever'.  Yes I was there! They were there, the penny had dropped.
You see my friends, The Threnody of Triumph is a massive grower, an album celebrating death and the path to the afterlife, rejoicing life and mourning the loss is a dark and light journey and this is EXACTLY the experience on listening to this album. Slower moments are welcome in 'A Soul Unbound' (Hyde and other local hot spots are whispered if you listen closely during the instrumental mid-point of the song!)   Winterfylleth love the peak district that they hail from.  The band are trying some different ideas without going too far outside the box, Nick's Bass thunders on this album, and I do think it is the darkest album yet.  Chris' lyrics get more poetic on this release, many will not recite the words back easily. The acoustic folk piece 'Home is Behind' is beautifully executed by Nick as the penultimate track before a belting finale as the title track leaves the album on a massive high note!
This is not an album to dip into and out of, you need to be at one with this masterpiece, then you will hear its complexity and reap rewards it offers in abundance. Anyone who says that they get this album after one or two listens is a liar, this album needs time and a bit of dedication, the writing is more complex and it is A TRIUMPH!
Hail Heritage!